WEDNESDAY, FOOD, FUN AND FELLOWSHIP:
Every Wednesday Night:   5:30-7:30 pm — September to Easter
The study starts around 6:30 pm and this session will be lead by    Rev. Michael Barnes
Everyone Welcome!
TAIZE MEDITATION:
Taize is an ecumenical monastery community in France established by a French Reformed (i.e. Presbyterian) clergyman after WW2. It was designed to be a movement for peace and renewal based on the ancient practice of meditation, praise and prayer. Taize Groups all over the world meet to sing chants to the praise of God, pray  together and in silence, and to find that peace which only God can give.
Taize at Knox meets on the fourth Tuesday of the month at 7 pm from September to June, in the church Library.   All are welcome to attend.  Check calendar for specific dates.
CONGREGATIONAL BREAKFASTS:
People of the congregation and friends gather at 8:00am on the 1st Saturday of the month (October to May) for breakfast and to listen to a guest speaker.
BASKETRY GROUP:   Making baskets and now inviting everyone to come with a craft and join them!  Supporting missions with $5 donation.  Tuesday mornings 10am-1pm
LADIES OF KNOX:
Ladies meet on the 3rd Wednesday of each month and bake a
variety of fruit and meat pies which are available for sale.  Pot luck lunch meetings are popular.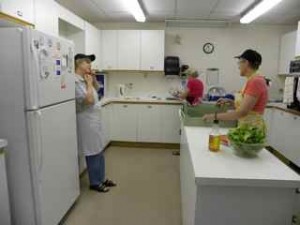 KNOX DRAMA GROUP: is an informal committee that was formed in 2001. It reports to the Worship Committee and its purpose is to develop and present dramatic productions that will enhance and support the worship and fellowship life of the congregation.
2017 – we are celebrating the 150th anniversary of Canada with "One Last Kick at the Can!" – focusing on what has been happening in Bracebridge over the past 150 years.   
Watch part of 2017's production here —- Part of Knox Drama 2017
2016 – we celebrated the 100th year anniversary of  Women's ability to vote!
CHOIR FOR ALL AGES:
Thursday afternoon practice @ 3:00 pm. We sing a mix of traditional & contemporary music.   New members most welcome. Practice is from September to June.
LIBRARY:
Lots of great current books for everyone's taste – for youn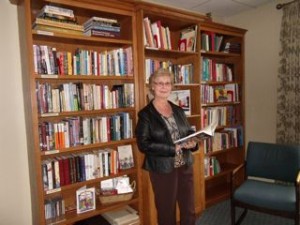 g and old.
Check them out!
Librarian, Liz McKeen, keeps things organized and up to date.
SOCIAL OUTINGS:
are held throughout the year for all ages: bowling, carolling, pot luck dinners, church picnic, pancake supper, coffee hour after church.
SPAGHETTI SUPPER:
This major fundraising event is held on the third Saturday
in October.
Steamboat Ride at Paul's Lake Joseph Home:
A great get-together!
Congregational Summer Picnic each year!
Bring a salad or dessert and your own drinks and chair!
SANTA CLAUS PARADE FLOAT:
Each year Knox enters a float in the Bracebridge Santa Claus
Parade. We attempt to remind the community of the "reason for the season".