What to expect at Knox …
 We have been in Bracebridge since 1865, but have  changed a few things since then.
We use multimedia and are pretty relaxed during worship, though we take God's love seriously.
We adhere to a "Leading with Care" policy, so our place is safe for children, youth and vulnerable adults.  During the Pandemic we are also adhering to strict Covid-19 protocols to ensure the safety of all individuals entering the building.
We have a fully accessible facility.
Sundays, you will be  greeted at the door.
We like to try new things in worship and are friendly and we dress casually.
We have a rotating gallery of congregational art, changing every 3 months.
We don't have all the answers – in fact, we have more questions than answers – but we invite you to join us on a journey of faith!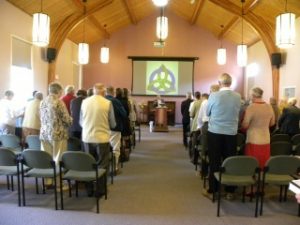 We believe God is revealed most fully in the person of Jesus Christ, but that doesn't mean we don't love others who might think differently